Mobile Greenhouse 'The Castle'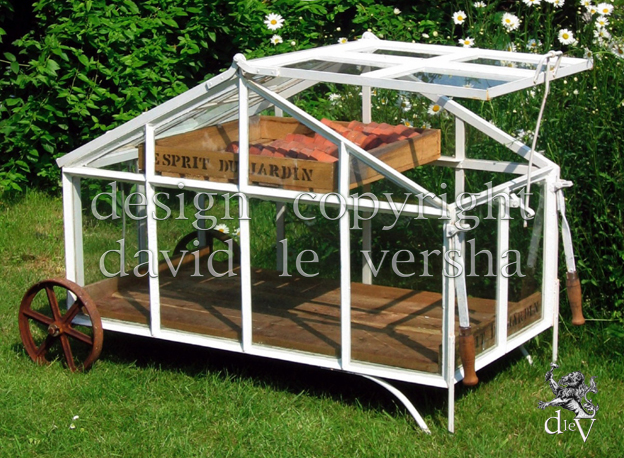 'The Castle' Greenhouse
This Mobile Greenhouse was designed by David Le Versha in the 1990s when the workshop was in Castle Hedingham, at the old Nunnery.
It was always intended as a fully functioning miniature greenhouse, with the appearance of a Victorian antique. Part of the unique design includes the special handles which when lifted press against the frame to enable the greenhouse to be moved around on the cast iron wheels. Generally, we age the wheels and leave them unpainted which contributes to the antique appearance. The wheels and axle are removable for access through a restricted space.
Each lid opens completely over to the opposite side allowing full access, or can be set open at any position on the friction stay.
The Glass is putty glazed as is traditional and painted in several coats.
There is a loose seed tray in the top half of the frame, which can be stencilled with your house or garden name.
The floor is loose boarded so can easily be replaced in future.
Length 56" - Including wheels and handle
Width 33" - Including wheels
Height 38"
'The Castle' Greenhouse
The Castle Mobile Greenhouse. An ideal Wedding Present or Special Gift
'The Castle' Greenhouse
The Castle Mobile Greenhouse. The perfect Wedding present or special gift